Electronics
NXT - DISCONTINUED PRODUCT
Now Your LEGO NXT Can Control Some Heavy Metal
Use a language you already know to program a rugged GEARS Heavy Metal Chassis Robot. GEARS provides an adapter module that allows you to plug your NXT into our high-current motor controller. We also offer a PS2 adapter, so you can control NXT and the GEARS robot with a wireless gamepad. A plastic connector integrates the NXT brick directly onto our .090" thick HMC aluminum chassis.
These products are not connected to or endorsed by The LEGO Group. LEGO and NXT are trademarks of The LEGO Group.
For programming NXT with the HCM/NXT adapter and the PS2/NXT adapter, use BricxCC programming software for NXT.
BricxCC: http://bricxcc.sourceforge.net/
You can download it here.
Open the xip-mod-tank.nxc in BricXCC GUI, and use the menu "Compile->Download" to download it to your NXT.
NXT LEGO Brick Adapter Products for Heavy Metal
HMC-Lite Robot with LEGO NXT and adapters for GEARS
15-amp motor controller and 12-amp, high-torque gearhead motors.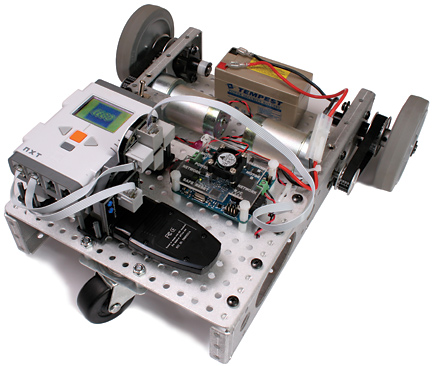 HCM/NXT adapter for connecting GEARS
High Current Motor Module to NXT Brick


PS2/NXT Adapter with PS2 Game Pad


Plastic Structural Mounting Plate Kit for Attaching NXT to GEARS Metal
Set of 4