Products
The Surface Mobility Platform
The GEARS-SMP is a research quality Surface Mobility Platform designed for university, college, and high school programs engaged in real-world robotic research. This research robot was developed using mobile platform technology created by Gears Educational Systems for a client-authored NSF grant.
The structural components of the GEARS-SMP chassis are custom manufactured from black anodized 6061-T6 aluminum alloy tubing suspended on a 1/2" diameter titanium alloy main axle.
The chassis of the GEARS-SMP surface Mobility Platform is scalable and easily customized so you can create mission specific configurations and accommodate various payload requirements.
The body of the chassis remains extremely stable while roving over rough terrain. This makes the GEARS-SMP and ideal camera platform or reconnaissance vehicle.
The GEARS-SMP can be broken down and field stripped in less than 3 minutes for easy transportation by car, boat, or plane.
The GEARS-SMP is a robotic engineering product intended for educational programs that wish to integrate the following robotic technologies:
Sensors
Remote Visualization
GPS/Navigation Strategies
Alternative Energy systems
Autonomous Control
Extended Mission Capabilities
Increased Payload Capacity
View a video that illustrates the GEARS-SMP capabilities. In this configuration, the chassis is fitted with a Heliocentris 50 Watt PEM fuel cell and a 250 liter Ovonics metal hydride storage bottle.
Surface Mobility Platform Construction Guide
Standard Chassis Specifications
Weight: @ 18 lbs
Additional Payload Capacity: @ 18 lbs
Overall Length: 24 inches
Overall width: 24 inches inches
Overall Height: 13 inches
Wheel Base: @ 16.5 inches
Tire Diameter: @ 7 inches
Average Ground Clearance: 4.5 inches or 30% of overall height
Structural Components
The GEARS-SMP chassis is scalable and customizable. Using GEARS-SMP basic connectors and off the shelf 1-1/4" Aluminum square tubing, it is possible to create mission specific custom chassis configurations. It is possible to create three different configurations just by ordering different connectors.
View an illustrated description of the basic GEARS-SMP chassis parts.
Gear Motor Options
Motor Specifications Comparison Data Sheet
Note: DC brush motors can be driven at voltages greater or lesser than the specified winding voltage. Greater voltage results in faster speeds, but generates proportionally higher currents and heat.
Standard GEARS-SMP Motor
The 65.5:1 Gear ratio provides a usable compromise between speed, torque, and current draw. Observed performance: 2 fps at 12 volts/ Max continuous tractive force is 8 lbs @ 2.25 amperes per wheel.This motor is particularly well suited to off-road use.
Fast GEARS-SMP Motor
The 19.7:1 Gear ratio driven by a 9.55 volt armature provides high speed with limited torque. Observed performance: 6+ fps at 12 volts/ Max continuous tractive force is 1 lbs @ 2.25 amperes per wheel. This is a competition motor option and can be used to navigate greater distances in less time over flat terrain. This motor option is not well suited for off-road use.
High Torque GEARS-SMP Motor
The 218.4:1 Gear ratio provides maximum torque at minimal current draw. Observed performance: 2 inches/sec. at 12 volts/ Max continuous tractive force is 7.5 lbs @ 0.5 amperes per wheel. This motor is particularly well suited to off-road use where short distances and precise motion is required. Due to the low current draw and extended run time, applications might include emergency/disaster reconnaissance and/or biological field observations over very limited distances.
For more information about The GEARS-SMP, contact sales@depcollc.com and ask how you can use it to add more educational excitement to your Science and Engineering programs.
The CoroWare Explorer, a modified Surface Mobility Platform.
Research Quality Off-Road Platform
View the Surface Mobility Platform in action.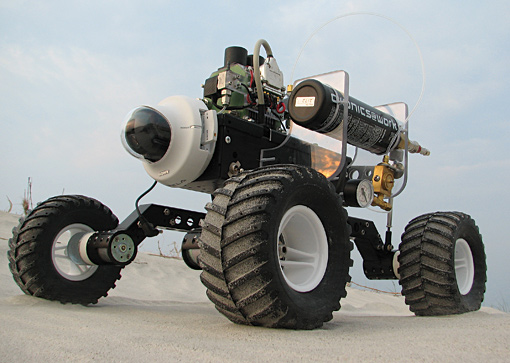 Fuel cell courtesy of Heliocentris. H2 Storage by Ovonics.
---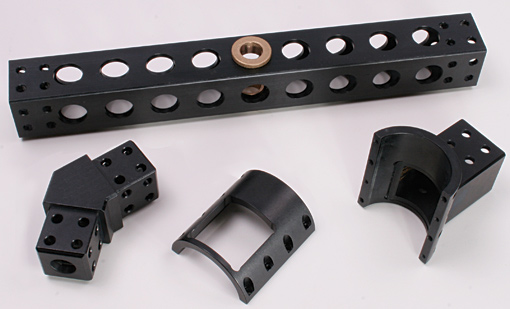 Rugged black anodized 6061-T6 aluminum alloy tubing components.
---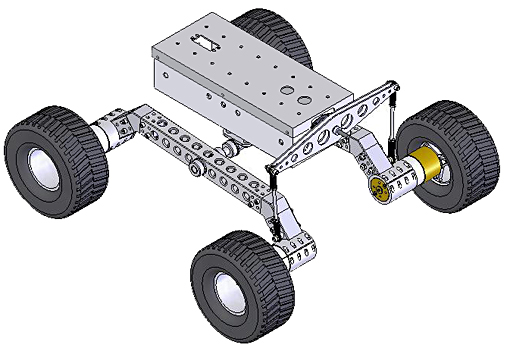 SolidWorks assembly drawing of the standard configuration GEARS-SMP
---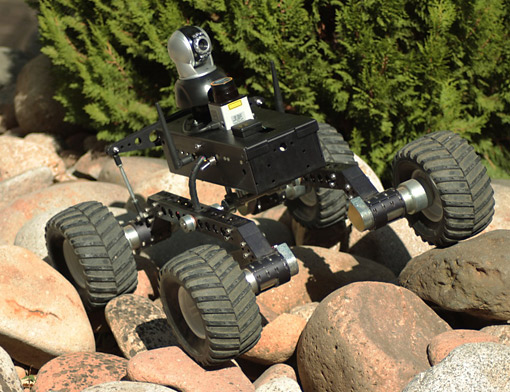 Photo of SMP courtesy of the University of Girona, Spain.
GEARS SMP Rescue Robot Testing at ARLab University of Girona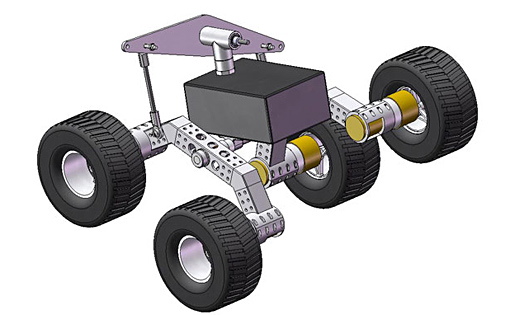 Small 3-Hole Frame version pictured here is also available.