Products
Hands-On Mechatronics Training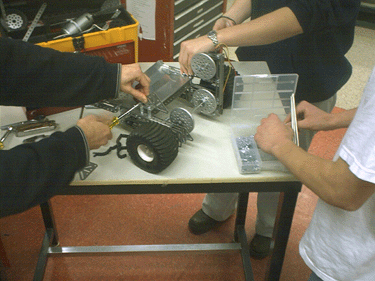 THE GEARS-IDS™ ADVANTAGE
Hands-on projects with curriculum resources help students learn math, science, and engineering principles.
Re-configurable, customizable, and built to last for years.
Industry grade pneumatics and gearhead motors.
Electronics include speed controllers, digital switches, 12-volt battery, charger, wire, and connectors.
Interfaces with programmable controllers or RC radios.
Open-ended prototyping platform.
CAD solid models available for download.
Precision stainless steel & aluminum drive components.
All components organized in a storage container for classroom management.
Used in colleges and high schools across the country.
Majority of components designed & manufactured in the U.S.
Projects Made with GEARS-IDS™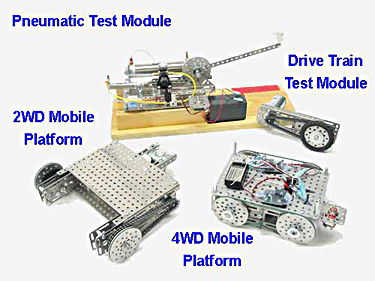 Pirates Challenge, where three autonomous robots compete in the ECU challenge to extinguish a candle.
GEARS Invention and Design System™
Design, build, test and learn with GEARS-IDS™
Invest in the best "hands-on" engineering program!
Note: Subsets of the system can be deleted to fit your budget
The GEARS-IDS Invention and Design System™ gives teachers the Industrial Strength tools needed to create world class engineering and robotics challenges for their students in the comfort and convenience of their own classrooms. From trebuchets to autonomous robots, the GEARS Invention and Design System™ allows students to participate in the science and history of technological achievement!
Students and teachers who use the GEARS Invention and Design System™ share in the creative excitement of inventing their own engineering games and designing the modules, mechanisms, and machines to play them.
GEARS-IDS™ is a great way to learn:
How to apply basic math and physics concepts to the solution of a challenging problem.
The process of engineering and designing modules, mechanisms, and machines.
How to work as a member of an engineering team and participate in the engineering project lifecycle.
How to use 3-D solid models to communicate ideas and create and analyze design iterations.
The fundamentals of mechanics, electronics and pneumatics
And much more!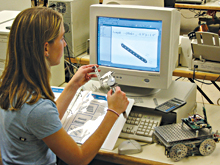 Illustrated Catalog of Components in the GEARS-IDS Invention and Design System™.
Order additional or replacement parts for the GEARS Invention and Design System™.
GEARS-IDS™ Components & Storage Container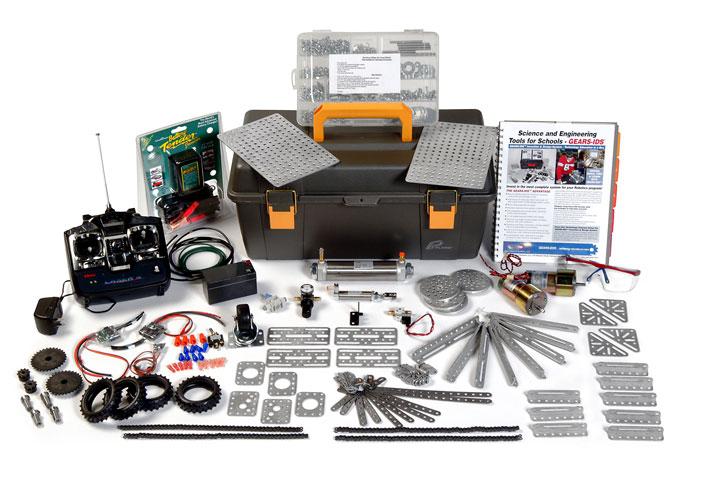 Using The GEARS-IDS™ System, every school can participate in engineering design competitions similar to those played at universities and national robotics events. GEARS-IDS™ is more than a robust mechanical platform for classroom and outdoor robotics, it can be used to illustrate physical science principles, engineering practices, or as the basis for a mechanical engineering program. GEARS-IDS™ is all about creativity. It is rugged enough to customize designs with additional manipulators, actuators, and cameras.
Shipping weight: 31 lbs.